Moving the shop, monkeypod headboard, and new slabs!
The end of April is coming quickly, and we have three major projects to finish for our clients. Normally that would be no big deal, but this month, we're moving our workshop into our showroom space. It is an exciting move for us, since we'll be expanding our shop space from 500sqft to 1000 sqft. It is a daunting task to move all of our wood and machinery, but luckily we don't have to move very far. We have to build some interior walls, but we'll get that done soon!
We finished some beautiful pieces this week. Let us see some of the highlights real quick:
We've had this slab around for a while, and finally got around to finishing it. It could serve any purpose, but we think it would be a perfect headboard. It's 72" long, so it'll have a 6" overhang from each side of a queen bed. The shape is perfect for a headboard too! This piece of monkeypod has some incredible figure in that top left corner. There were two areas in this slab that needed patching. We put a figured monkeypod patch in the top left corner, where there was a sizable void. There was a crack in the top right corner, so we put two kamani bowties to address the issue and stabilize the crack. We put epoxy in all of the cracks, which also adds to the strength and stability of the piece. This piece is for sale, so check it out if you need a headboard!
This next piece is a coffee table top that we're making for a lovely family. We still need to round the corners, but we can enjoy the incredible figure in this slab in the meantime. My favorite part of this piece of monkeypod is the "S" shaped flow of grain. I don't think that I've ever seen that before, and I don't know what exactly caused it to happen in this tree. Of course, it went through our flattening table so it's completely flat. We used an amazing conversion varnish to finish this piece. It has a natural look and is extremely durable. Really incredible piece of monkeypod!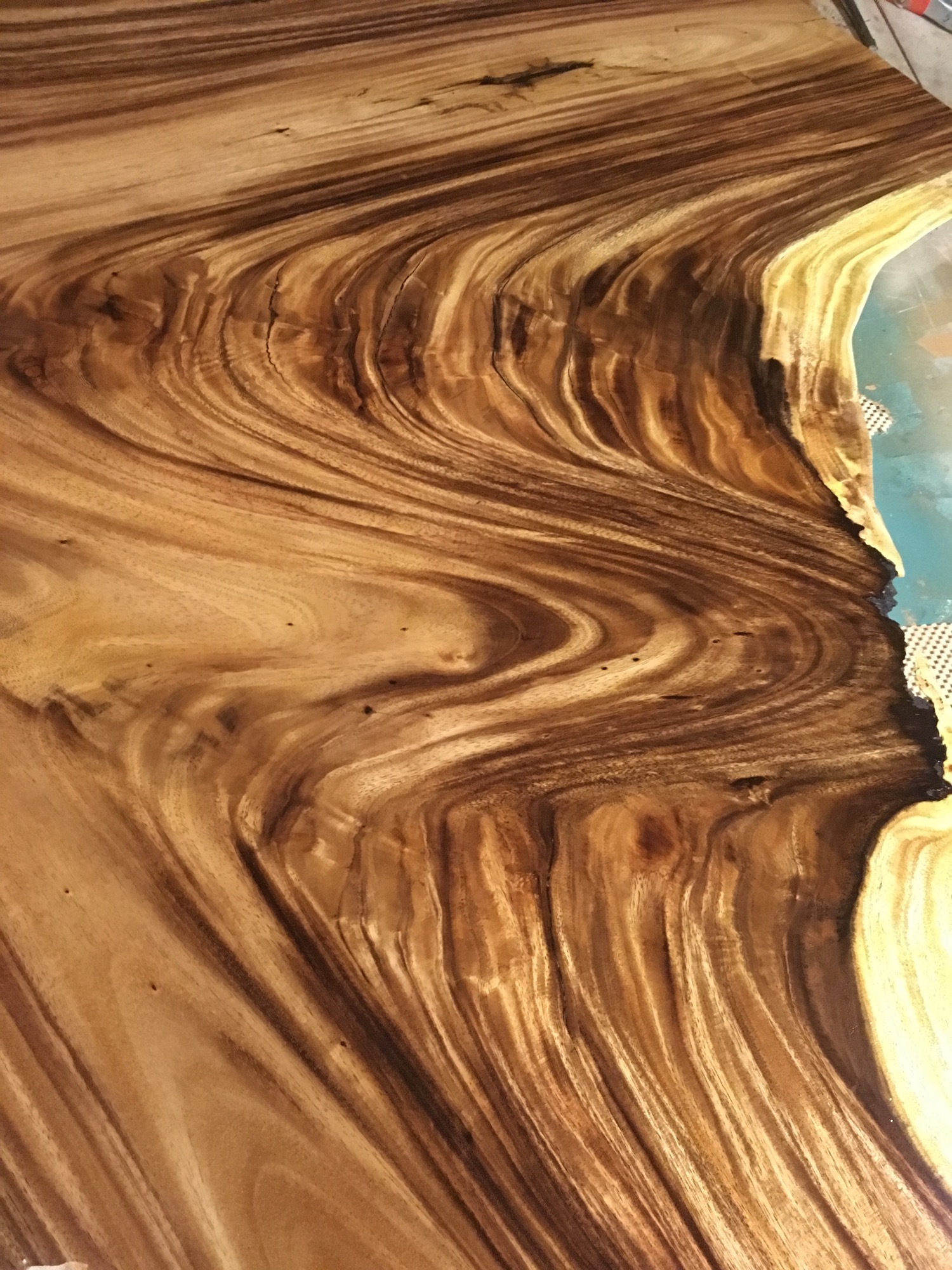 We got some new lumber in the shop! Check out some of the highlights!
And then a few miscellaneous pictures that I couldn't leave out.